HISTORY
Local since recent birth (at least by Versilia standards) the Beach Club was founded in 2010 and from the earliest times established itself as one of the most attractive places in Versilia. The Cinquale nightclub, a few steps from Forte dei Marmi, has been honored since 2011 with the honor of returning to the World's Finest Clubs, the very limited list reserved for the best clubs in the world.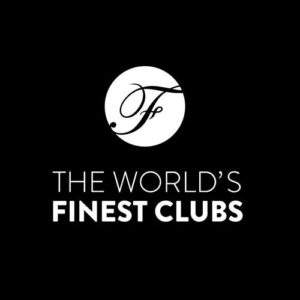 THE BEACH CLUB TODAY
The Beach Club disco attracts thousands of customers every summer (and some special dates like the New Year's Beach Beach), including many foreigners. Today it is the place with the highest maximum capacity and certainly the most modern and current. In the summer period it regularly opens its doors on Wednesday, Friday, Saturday, Sunday, occasionally Monday evenings or in exceptional evenings such as the New Year's Beach Club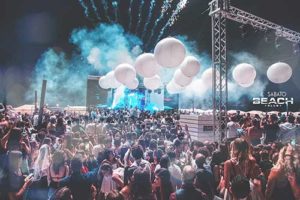 STRUCTURE
The Beach Club consists of an External Room with the dance floor and the various table areas, a Privè and an Internal Room used for winter events or in case of bad weather.
The External Room
The imposing Sala Esterna is the most well-known part of the restaurant. It consists of different table areas (with different prices based on the location) that allow all types of customers to be able to reserve their table with bottles and spend the night at the Beach Club with numerous privileges, not least table service and the privileged entrance that assures you of avoiding the unpleasant line that in the summer months is often created due to the huge turnout.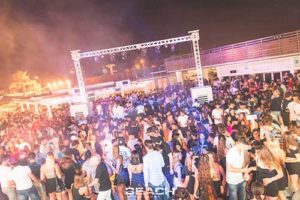 The Privè
That of the Beach Club is a private room worthy of its name. The console is very high, with an imposing ledwall behind it and a stage on which splendid dancers perform every night. Immediately aldisotto we find the tables area, the most privileged and requested of the place: it can be accessed only with a special bracelet. It is in this area that we find the beautiful image girls, the tables that shine with the light of the sparkles with each arrival of the bottles and, more often, numerous celebrities.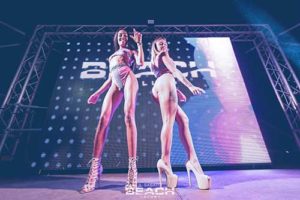 The Inner Room
In case of sudden rain or for winter evenings the Beach Club has a modern Interior Room with two bar points, two different areas and a console with private room.