The Maki Maki is the only nightclub in the Viareggio Darsena, but in reality it is much more. It encompasses all the bar and restaurant services, making it a favorite destination for all those who want an all-in-one service, without having to move between aperitifs, dinner and disco.
The restaurant located in Viale Europa 23 in Viareggio is open every Friday, Saturday and before holidays of the year and in the summer months you can also find it open on Thursday evenings. It is also possible to organize private and corporate events on request, as well as on regular opening evenings, even on closing days.
The Building
The restaurant is composed as follows: the central hall, the restaurant area, the private area, the outdoor garden and finally the splendid Maki terrace
The Mainroom
In the large central room, dark in color and furnished in warm tones, it is used to host numerous buffets / private events thanks to the availability of a dedicated bar and audio / lighting systems suitable for any eventuality. Starting at 11.30pm it is the hub of the disco, with a raised console, numerous tables that can be reserved and a coveted private area.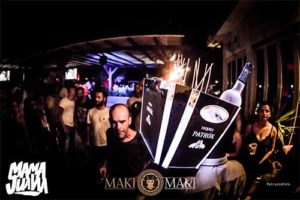 Restaurant Area
The restaurant area, adjacent to the central hall, is made up of elegant tables that host numerous customers for dinner at each event, thanks to refined guided menus suitable for every budget. Here we also find a spacious American bar where you can enjoy your cocktails.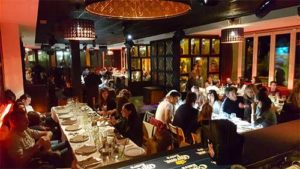 Privè Area
Undoubtedly the most coveted area of ​​the venue. Located inside the central hall, the private area is a raised part and accessible only to those who have reserved a table in this particular area. Complete view on the dance floor and on the console, where DJs and dancers alternate throughout the night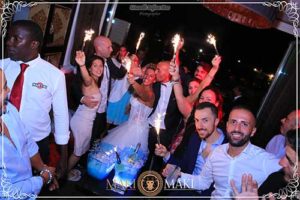 Outside Garden
A garden develops all around the main building, used in the summer months. On the one hand, the space used as a restaurant, to enjoy a pleasant outdoor dinner; on the other, the outdoor track with console, bar and bookable tables.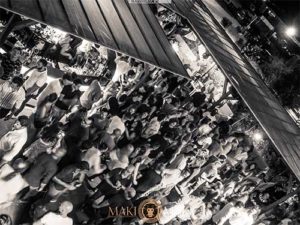 Maki Terrace
If you are looking for a bit of refreshment in the summer months, you just need to climb a few steps to find yourself in the splendid maki terrace, entirely Martini branded with large sofas and a bar to enjoy your cocktail with a sea view in complete tranquility. The ideal area to take advantage of the aperitif in the hottest months.